Wednesday, 22 October 2014 19:02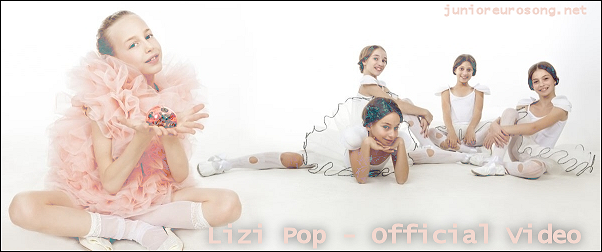 This song is for the kids who are sad and miserable in life...
With my song, I want every kid on every continent and every country
and every family to be happy and joyful in life.
What a happy day indeed! The video for Lizi Pop's Happy Day has been released! Seemingly living in a music box, Lizi Pop floats angelically through the sky in her cute white dress, while her four dancers, Kate Arbolishvili, Nita Lomize, Dea Dashniani and Sophie Dashniani (that's right, no Mariam!) dance around beautifully like ballerinas!
You can check out the video right here!
Tuesday, 21 October 2014 11:55
The finalists for the Maltese Eurovision 2015 national final have been announced. If you're going to JESC, you can stay for the national final as it takes place only a week after JESC, isn't that convenient? Anyway, the reason this is interesting to Junior Eurovision fans is that Daniel Testa, who placed 4th for Malta in 2008, is once again a finalist, hoping to claim the crown this year after he missed out last year. His song is called 'Something in the Way', you can watch it below. Domenique Azzopardi and Danica Muscat from their JESC national finals will also compete.
Monday, 20 October 2014 13:18
Here's a treat for you all to celebrate all 16 songs being released, an exclusive interview with Malta's representative Federica!
Hi Federica, congratulations on representing Malta this year, it's a big honour to follow in the footsteps of a winner, how do you feel, representing Malta just after Gaia won?
I agree it is a big honour. I am proud to be representing Malta. Last year I was screaming with delight when my close friend Gaia won the Junior Eurovision. I don't know if I can do as well as Gaia but I shall try my best to make my country very proud.
How did you get selected to enter JESC, whose idea was it?
The national television station, PBS, asked if I would like to take part. This was after I had won Ti Lascio una Canzone on the Italian national TV Rai Uno. Here is one of the series of appearances on RAI Uno
Read more
Written by Nicolas
Monday, 20 October 2014 12:04
CyBC, the Cypriot broadcaster, has released the list of entries that will compete in their National Final. The selection process is supposed to last for about ten weeks and there are sixty songs trying to represent the Mediterranean island. If you take a closer look at the list however, you might spot a familiar name in there...
Charis Savva is one half of the duet that represented Cyprus at Junior Eurovision in 2008. They came tenth  in their own country with their happy song 'Gioupi gia!'! Since Junior she has not given up singing, as in 2009 she competed in a Cypriot kids talent show called Get on Stage. Charis made it pretty far in this show that was made for kids between the age of 10 and 18, but sadly she got eliminated before the final. You can watch an excerpt with her in this show right here!
Now, five years later, Charis is trying for adult Eurovision and once again, it's as a duet. She'll sing Deila den agapo with Nearchos Evangelou, a young male singer.
At the moment it's not known yet when the selection process is supposed to start, but seeing as it has about ten parts, it shouldn't be long anymore!
Friday, 17 October 2014 10:18
The last song of 2014 - Malta, has just premiered live at Federica's school. You can watch the video below, and I must say, it's very well produced.
Who is Federica?
Federica Falzon was born on the 17th February 2003. At a very young age she showed interest in music especially singing. Her grandpa used to take her to karaoke clubs where most of the people who heard her singing, encouraged her to take singing seriously as she had a unique voice. At the age of nine she was noticed at school by her music teacher, who heard her singing in the school yard. Maestro Zammit was impressed with her voice and encouraged her to start taking vocal coaching.
She participated for the first time at a local festival in May 2012 with the country song Coalminer's Daughter, where she placed in the 2nd position. On 3rd July 2012 she started to attend at La Voix Academy directed by Ms. Gillian Attard. Ms Attard urged her to opt for classical music as she noticed that her talent and ability was leading her to a promising Soprano. In February 2013 she was chosen to participate at the festival Sanremo D.O.C. where she competed with Maltese and Italian singers of different ages. Federica placed first in this prestigious festival with the song La Voix making good name for Malta, for herself and for the Academy.
Read more