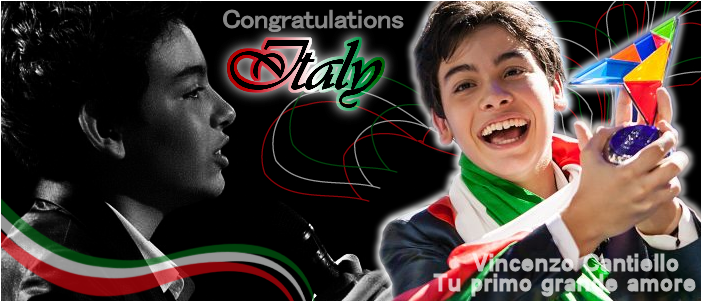 Congratulations to Vincenzo Cantiello from Italy who won the Junior Eurovision Song Contest on their debut. We'd like to thank you all for following our coverage this year, it was great to be reporting live for the first time and we learned a lot. Next year we will be back with bigger and better coverage. If you have any questions about what it was like behind the scenes, ask on our Facebook or Twitter. The results were:
1st – Italy (159 pts)

2nd – Bulgaria (147 pts)

3rd – Armenia (146 pts)

4th – Malta (116 pts)

5th – Russia (96 pts)

6th – Ukraine (74 pts)

7th – Belarus (71 pts)

8th – Netherlands (70 pts)

9th – Cyprus (69 pts)

10th – Serbia (61 pts)

11th – Georgia (54 pts)

12th – Slovenia (29 pts)

13th – Sweden (28 pts)

14th – Montenegro (24 pts)

15th – San Marino (21 pts)

16th – Croatia (13 pts)
San Marino and Slovenia used only jury voting. It remains to be seen whether Italy won both the televoting and the jury voting. Malta scored their 2nd highest position ever (Daniel Testa was in a field of 15), making the Maltese current selection process very successful.