Malin Reitan
Malin Reitan was born 08.08.1995 in Sør-Trøndelag, Norway and she spent most of her childhood in Norway's third largest city Trondheim. Malin lives with her mother Heidi, her sisters Lotte and Tuva but she also visit her father Ove often where she meets her two other siblings Julia and Ole-Jostein. Malin enjoys riding and dancing, especially hip hop and she goes to a school called Selsbakk ungdomsskole.
Malin is and has been the most well-known child singer in Norway for half a decade! She started her career by winning the Melodi Grand Prix Jr. final in May 2005 performing her song "Sommer og skolefri". After her victory she went on a summer tour with the rest of the MGP jr. team, but she also did lots of concerts and interviews by herself. Still she got time to rehearse for JESC where she ended Norways participating years with a marvelous 3rd place. She was so happy to have received points from all 16 countries.
In 2006 Malin released her first album "Malin på Månen" and later the same year "Malins jul". Both albums went gold and the first one also got platinum this made her the second most selling female artist of 2006.
2007 was all in all a peaceful year for Malin except for the performance she did January 21 when she performed "Bare bare" in front of the Norwegian king as a part of his birthday present.
In 2008 Malin's long awaited 3rd album was released "PANG!" went gold very fast and Malin did her longest summer tour ever with young children singing "Pang" and "Sommer og skolefri" as loud as they could all over. 2008 ended with a very successful Christmas tour Malin did with her good friend and well know Norwegian child singer Celine.
In 2009 Malin did her 5th summer tour and released her 4th album, the success of last years Christmas tour was repeated.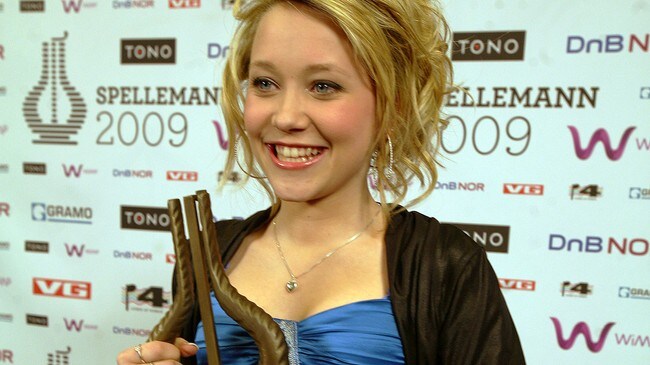 This year Malin will turn 15 and go on her 6th summer tour, but before that she achieved something big. On March 6th she won the Norwegian "Grammy" "Spellemannsprisen" for best children album of the year. Malin is so far the one and only person under 20 to achieve this prize!
She has released four albums so far – 
Malin På Månen is her first album and was released in 08/05/2006.
Dagen æ bli stor
Dum og deilig
Bare bare
Sommer & skolefri
Måne
Glad i dag
La det snø
Vi vil ha rock
Mamma og pappa
Maur i kroppen
Et lite ønske
Så dumt
Malin's jul  is Malin's second album and was released 27/11/2006. It contains Christmas music.
Jul i vårres by
Jeg så mamma kysse nissen
Julekveldsvise
Julenissen kommer i kveld
En stjerne skinner i natt
Sledeturen
Glade jul
Julepotpourri
Jeg er så glad hver julekveld
Sonjas sang til julestjernen
Nå tennes tusen julelys (live)
Pang! is her third album and was released on 16/04/2008.
PANG!

Sommer igjæn
Klassefest
Mm særlig

Lille menneske

Tryllestav
Sveve på luft

Unnskyld

Perfekt dag

Som skutt ut av en kanon

Sonja Henie

Tannpinern

Ingenting å si
Malin is her fourth album and was released 02/11/2009
Amerika
Kan det skje med mæ?

Hallo morsan

Skoletur
Ekte sommer

Ferdig med dæ

Riktig vei

(Det trengs mer enn) Tomme ord

Pia di

Beat for beat
Himmel'n er blå (Kom igjen)

Hemmelighet
---
Here is an interview from 2005, just before JESC rehearsals.
We meet Malin outside the make-up room, shortly before her first rehearsal.
Hi, Malin. You've just had your make-up and hair done. Are you happy with the results?

Malin: Yes, I like it. It feels great. I am very satisfied.
And is this the dress that you will be wearing during the show on Saturday?
Malin: Yes, this is what I will wear on Saturday as well.
This will be your first rehearsal on the stage. Are you nervous?
Malin: No, not at all. My parents are here with me and I think they are more nervous than I am.
Your song is about summer and leisure time. Are they what you like best?

Malin: Of course, school is okay. But I like to have time for my hobbies. I like riding more than anything, but I also swim and go skiing.
[The Head of the Norwegian Delegation adds that Malin is a very good skier.]
Do you have your own horse?

Malin: We have 65 horses! But my favourite horse is Prince.
Would you love to become a professional singer?
Malin [nodding]: Yeeessss! I would love to!
Do you have a favourite star?

Malin: Hmm, not really. Perhaps a Norwegian band called Three Little Italians.
How hard is it to write a song?
Malin: Good question. It's not that easy. But I sing about what interests me most and what I love – summer, ice cream and things like that – so finding ideas is no problem. I always start with the lyrics first. Then I start to sing along and… there is the melody. I've been singing since I was three years old, so I am used to it. The Norwegian final was in May, though, and since then we've spent a lot of time preparing the song with many hours of rehearsals.
You said that you're here with your parents. Are your friends here too?
Malin: No, but I have 20 relatives with me. My whole family is here to support me.