Thursday, 13 November 2014 13:43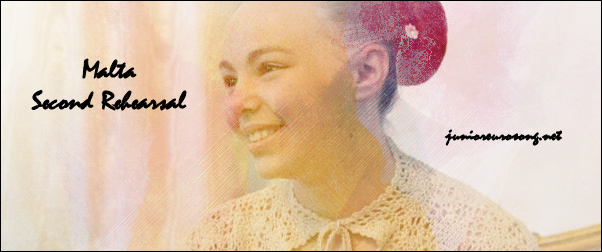 Malta's first rehearsal was pretty much spot on, except a few camera angles she didn't get yet. Well, those have been fixed, so everything is set for Saturday! Federica's vocals are spot on, her dress is really pretty and the lighting and backdrop are matching. Still, when you watch it on the screens, something is still missing a bit... But by the time we're writing this, dry ice has been added, and it's an improvement indeed! We will have to see what happens on Saturday!
Thursday, 13 November 2014 13:13

Ula has just finished rehearsing for the second time and she sounds absolutely amazing! Not only that but they've kept a surprise for us: she'll have a circle around her that starts shooting off pyrotechnics in the climax of the song, which looks fabulous! She wears a simple short white dress, which adds to the simplicity of the song. She also gets the cameras every time they're close up to her, which is important! Let's hope it all goes well!
Thursday, 13 November 2014 12:42

Emilija has just finished rehearsing her song for the second time. She's very confident on stage and looks really nice on camera. Her singing is spot on, especially on the last big note of the song. Her outfit doesn't seem to match the song really well, wearing a black and white top and pants. This should do well with juries, there's absolutely nothing wrong with it!
Because of a technical issue we don't have a video of this yet! Sorry for the inconvenience!
Thursday, 13 November 2014 11:16
The girls have had their second rehearsal and it blew everyone in the hall away! The Peppermints have excellent vocals and good harmonies, and not only that, but they also have great stage presence together and give the cameras the right looks at the right time. The outfits are very standard, white tops with skirts in different colours for every singer. And then there's the boots! Fabulous black boots for everyone!
Thursday, 13 November 2014 10:37
Josie just finished her different run throughs and the first thing we can say is: what a cute outfit! She's wearing a short red dress that matches her perfectly! The dancing has improved a lot, but her own moves sometimes still come across as a bit awkward. She also has to connect more with the cameras, but that's what these rehearsals are for! In any case, she looks and sounds good now. The backdrop is very active and fits Josie's personality. Let's hope for a strong dress rehearsal tomorrow!