---

Amanda Bashmakova, the winner of the age 12-16 category of the show Balss Pavelnieks was approached by LTV and asked if she wanted to participate in JESC 2011. She agreed, and thus is the Latvian entrant. This is the same way Sarlote Lenmane was selected. Valeriya Chuvisova won the younger age group and was also a contender for JESC. Latvia was the last country to confirm participation.

Amanda is 14 years old girl from city Aluksne, Latvia and she will be the one representing Latvia in Yerevan, Armenia at the 2011 Junior Eurovision Song Contest. And she's got help from some of the best known Latvian songwriters.

Amanda likes to dance and travel together with her parents. When Amanda grows up she has decided to help animals and open her nature own reserve.

She's also had a lot of success at different festivals and contests from Russia to Moldova!
A bit of help

Amanda also got a bit of help writing her song from Jānis Lūsēns and Guntars Račs. They both are well-known song musicians.

Lūsēns has experience a lot with different musical styles and roles. The latest being theatre. Shows with his input have been visited tens of thousands of times. The audience for Jānis Lūsēns musical stagings and operas adds up to 450 thousand people!

The poet and musician Guntars Račs started to write poetry and at the age of 16 his first poems were published in the local newspaper and regional publications.

Guntars Račs has been working closely with almost all of the well known Latvian composers as well as Latvian artists. At various times, songs with the lyrics of Guntars Račs have been represented in Eurovision Song Contest.

For several years in turn, the song lyrics of Guntars were the most played and performed on the well-known Latvian radio station Radio 2.
---

This year Ketnet again hosted Junior Eurosong. They used the same dual system as in 2010, with the duals being:
Evelyn vs Alexandra
Femke vs Seppe
Naomi vs Ciska
Vince vs Flor


Alexandra, Femke, Naomi and Vince competed in the final, with Femke winning with "Een Kusje Meer" (One More Kiss) The stage was a lot nicer than in 2010! Besides the themesong Kei! Vet! Cool!, the juniors also released a song to raise money for cancer charity, called Appels eten.

My personal favourite was Ciska!



The biographies for all 8 kids:
Alexandra is

a

rock chick

of

14 years

with Polish

roots

.

She lives in

Kortenberg

, near

Leuven

.

Leuven is

her favorite

place

with

her ​​friends

to

go shopping

.

Besides shopping she also likes music and drawing.

Music

, especially

rock music

is 

her

biggest

passion

.

She

not only

sings

well

,

she

also plays

guitar

.

She has

an

acoustic

,

but

is especially

in love with

her ​​red

electric

guitar

.





Her

idol

is

Avril

Lavigne and

she

has

been inspired

by her

for

her number

of Junior

Eurosong

'

Big

Bang

'

.
Ciska

is a cheerful

girl

of

11 years

.

She lives in

the quiet

town Temse

,

where she

has

enough

friends

to go

roller

skating

in

the square

nearby.

And those

friends

and

neighborhood

kids

are

suddenly

the

perfect

actors and extras

to play

in the

movie she

is making

.

She

not

only

wrote

the story itself

,

she

filmed

and directed

everything

himself

.

She is

working hard

to

master

the guitar

and

sing

to get

them

day

in and day out

.





Her

role model

is currently

Demi

Lovato

and

the song

"

This is me

"

has

content

very similar to

her

Junior

Eurovision

song'

Disco

Jojo

.
Evelyn is

a

15

year old

girl

from

Mechelen

.

For her,

nothing is impossible

.

She sings

and plays

piano

as if her life

depends

on it.

But she

also makes

time

for other things

.

She takes drama classes and loves roller coasters and amusement parks.





Evelyn is

a

superfan

of Michael

Jackson and

especially

the song

"

Man in the mirror

"

inspired

her

greatly

.

Her

song

for Junior Eurosong

is "

Music and me

"

.
Femke is

a

small but brave

11

year old girl from

Morkhoven

with remarkably

long hair

.

Music is

her life

.

She

spends

a lot

of time at

her piano

.

If she can't play a song,

one of her

sisters

do

it

and

then

they

rehearse

together

numbers that

they

later

use

during performances

they

give

together

.





She is

quite

cheerful

and

loves her dog. The song

"

Pack

Up"

by

Eliza

Doolittle

inspired her

Junior

Eurovision

Song

'

One

more

kiss

'.


Flor is

a

14

year old

guy

from the far

Westouter

.

Music is

his passion.

Singing and

playing piano

,

he

would

have

his

day

to cover everything.

Between the

music

he

is

inspired

by

the

skate park

or on

the football field

.

If he

is on vacation

, you'll find

Flor

,

on or near the

water

.

Wakeboarding

, fishing

and swimming

are

his

favorite activities

.





Justin Bieber

is his

musical

examples

.

Flor

also

lives

on the principle

'Never

say

never'

.

And

all that

has

bieber

so

its

influence on his

song

Junior Eurosong

No.

'She

's not

mine'

.
Naomi
is
a
15
year old
girl
from Merelbeke
soul
with
a
blend of
Congolese
and
Spanish roots
.
Ideally
, she would
spend
her
days
dancing
,
but due
to
tiredness
sometimes
she dreams
away and
plant them
in her head
forward
all the
Holidays
they still
want to make
.
Later,
they
are
new
anchor
,
the succession of
Martine
Tanghe
is assured
.
But
Naomi
will
especially enjoy
what the day
brings
her
.
She
finds
music
-
and dance
inspired by
Beyonce
.
Especially on
the song '
Single
Ladies
' can
not
stand still and
that
she wants to
achieve with
its
song
for Junior
Eurosong
"Nobody
gets
us small
.


Seppe
is 11
years old and lives
between his
animals and
the
green
Herselt
.
But he
lets his
habitat
only too happy to
go
back
to travel
.
Both
for skiing
and
the sun
to enjoy
.
Seppe
but
is especially
passionate about
music
and
singing
.
He
sings
the lungs
from
his body
in the National
youth choir
.
His
motto
is "
go
and enjoy
" and
that
he
really
tries
to put
into practice
.
Does
he
really enjoy
the songs of
John Smith
.
"
The
fold
"
is now
his favorite
song
of his idol
.
Because he
is
an
idol
that
you
can not
imitate
,
like
his
Junior
Eurovision
Song
Hey
Hey
You
"is not
really
a
John Smith
songs
.
Vince is a 13 year old guy from Hasselt. He is more of a rocker, but can also enjoy musicals, and not just to look forward to, especially to make himself to play. And he did all the musical Daens and Oliver. Besides celebrating his musical bone playing piano and drums. But Vince has also sporting ambitions. He sits at the Topsportschool in Hasselt and specializes in soccer. So if a music career fails, perhaps the successor to Vince Lionel Messi.

Vince also knows what to do in life, he will already start enjoying his freedom. His motto is also "free as a bird and its number of Junior Eurosong 'Freedom' is about that. He has this inspired the song "I want to live" by Good Charlotte.
---
11-year-old Dalita Avanessian won the Armenian national final with her song "Welcome to Armenia" which is very fitting since the contest will be held in Yerevan this year. See it here: http://youtu.be/3YxNU63UjhY
And see the ENTIRE show here: http://youtu.be/QJMBc-5uo8w

The other finalists were:

    1. Razmik & Friends - Yes sirum em kez (I Love You)
    2. Milena Vardanyan – Stop
    3. Maria Yenoqyan – Nor erg (New Song)
    4. Petros Ghazaryan – Im yerazank (My Dream)
    5. Ninela Mkhitaryan – Notaneri ashkharhum (In the World of Notes)
    6. Tatev Engibaryan – Hayeren
    7. Do-Re-Mi – Dance With Me
    8. Nadezhda Sargsyan – Tik-Tak
    9. Allegro – Bnutyan hrashkner (Nature Wonders)
    10. Mary Arzumanyan – Pari ritmer (Dance Rhythms)
    11. Monika Navasardyan – Slatsik kami (Fast Wind)
    12. Dalita – Welcome To Armenia
    13. Anahit Hakobyan – Balet (Ballet)
    14. Sona Gyulkhasyan - Togh (Let)
    15. Milli (Milena Miskaryan) – Milli-on
    16. Vahagn Grigoryan – Mer bake (Our Yard)




Dalita's links:

Website: http://www.dalita.am
Twitter: Twitter.com/DalitaAM
Facebook: http://www.facebook.com/profile.php?id=100001076462712&ref=profile
Youtube: Youtube.com/Dalitastar
Fanclub: http://dalitaofficialfanclub.blogspot.com/

Here is her biography:



She studies in 'musical school № 1 named after
Alexander Spendaryana in piano, vocals and guitar.

She is the author of six songs and videos that are included in various CD, DVD music collections.


2007.
won "in the Republican contest-festival of them. Alexander Spendaryana young musical artists."

2009 participated in the contest "Golden Reed", which won first prize.

2009 and 2010.
Participated in the "Armenian Dance Contest" won gold medals, and thus took the first place.

2010 to 2011.
The winner of the contest prize "Nor Alik - New Wave"

2010.
Talk Eurovision qualifying round of Armenia (the best five)

2011.
The first national children's literacy prize winner for 'Best hit'


Also participated in these contests of beauty and elegance.

2005 was the "Miss Armenia", in the same year took part in the national contest "Miss, Mister World" beauty and elegance of the table where "Miss Armenia"

2006 won the nomination "Miss advertising" (as in early childhood appeared in various commercials).

2007 Won the title of "Miss Talent".

In 2008.
at the "Miss and Mister World" for the manifestation of the unique contribution of udastoilas Certificates "Honorary Member".

2009.
became "Miss Top Model 2009" and was awarded a special prize from the famous boxer Alex Abraham.


Activity,

She also hosts a show called "Baby News" on the second Armenian television program "Good Morning Armenia".
She was a correspondent for "Bumbumik Show" on TV "Kentron" and «ATV».

2010 Participated in the Channel, "Shant" in the program "Hidden Talent" where presenting their skills advanced to the semifinals.
Took part in a gala concert.

She starred in several episodes of "shilashpot" in channel "Shant" TV program for children Jumble.

At present, acted in television, "Armenia TV" program "Charlie's Show" - which plays a role Charlity.

In the youth magazine "YES" has its own page with the heading "Dalita and friends."


Now also acts in the studio theater Artashes Aleksanyan in the play "The Court of the Armenians - the court of all mankind" (incidentally, the youngest actor in the current composition of the theater represents the role of a boy water seller).


Stayed in many TV and radio broadcasts.


The list of her achievements:


• 2005.
"Miss Yerevan"

• 2005.
"Miss Armenia"

• 2006.
"Miss Advertising"

• 2007.
"Miss Talent"

• 2009.
"Miss Top Model"

• 2010.
Talk Eurovision qualifying round of Armenia (the best five)

• 2010 to 2011.
The winner of the contest prize "Nor Alik New Wave"

• 2011.
The first national children's literacy prize winner for 'Best hit'
---


9 September 2011 - Finally some Swedish news! We started with 20 kids, who had to sing a cover of karaoke and a song. The 20 were cut to 8, and these 8 have all been preparing songs since June. Molly Sanden (JESC 2006), Christer Björkman and Tine Matulessy (choreographer for the adult Melodifestivalen) have acted as a jury to narrow the top 8 finalists to four. These 4 will be performing at Gröna Lunds big stage on Saturday at 13.30 and the jury (together with audience reaction) will be picking a winner. The winner won't be announced until November though (on a 2.5 hour TV program).

In the programs we will follow Christer Björkman selecting an artist, from the first audition. While there will be with glimpses of the gigantic international final. Many probably do not know how big it is, says producer Renée Axö. During competitions, the participants had experience of working in the studio and rehearsal space in the same way as artists in the big Eurovision Song Contest.

Christer Björkman is in favor of the new design. He states it is not important whether they win or not, but they become developed musically. All the finalists have plenty of experience and wrote their own songs. We judge the contest based on what we believe may  get the best result in the Eurovision. Although the outcome is not really important, this must primarily be playful and fun, says Christer Björkman.

The four finalists are:



- Oliver Eskilsson, 13 år, Norrköping



- Wictoria Johansson, 14 år, Borås



- Erik Rapp, 15 år, Leksand



- Isa Tengbladh, 13 år, Stockholm

Source: http://svt.se/1.2528873/en_ny_generation_skolas_in_i_melodifestivalen

And don't forget, for all the news FIRST, go to forum.junioreurosong.net
---
9 September 2011 - Good news today everyone! It has been
announced at junioreurovision.tv that Latvia will become the 14th country in Junior Eurovision 2011! We started with 12, then Bulgaria and Latvia joined, so now at 14 this will no longer be the smallest JESC ever!

"It is great to see another broadcaster expressing its confidence in the Junior Eurovision Song Contest," said Sietse Bakker, the Executive Supervisior of the Junior Eurovision Song Contest. The EBU and Host Broadcaster AMPTV have made a strong effort this year to reunite the 'family'.

We do not yet know the details of the Latvian selection but they should emerge soon.
---
Congratulations to our JESC star of the month, Ekaterina Ryabova!


Ekaterina Dmitrievna Ryabova was born August 4, 1997 in Shchyolkovo , Russia (now in Korolev). In 2009 she represented Russia in the Junior Eurovision and came 2nd with her song "Malenky Prints". This year, she becomes the first ever person to go to Junior Eurovision more than once, singing Kak Romeo i Dzhulyetta for Russia. She is in 5th grade at "gymnasium #3" school. She also attends a vocal school called "SvetAfor" with Svetlana Koroteeva.

Here is an interview with her:

- Katya, how do you think you won the national final twice? Maybe you have some special secret to success?

- I do not know. - I do not know. My goal was simply to act with dignity, you know? I wanted to win certainly..

 Do you sing to satisfy yourself, or for your parents/teachers?

- I do it for fun. And to bring joy to the audience. If it all works out, I'm satisfied with myself.

- How did the audience react to your performance?

- Very good. My friends made posters to support me, I am grateful to them for that. . And after the results I have very many congratulations on the victory.

- What were your feelings were when you heard again that you won the qualifying stage?

- Honestly, it was a shock.  I still can not believe what happened.

- Why the shock? You thought that someone was better than you?

- In my opinion, it was a very strong selection in this year. I even liked most songs. For example, Nikola Dmitriev and Darya Lukash.  I managed to make friends with all of them. And they were the first to congratulate me when they announced the results.

- You know that so far for Russia only one person appeared twice on "Eurovision" -Dima Bilan.

- Yes, I know.

- Ready to repeat his success?

- I'll try, of course. Although, again, for me, the victory is not the main goal.

- Well do you remember your first "Eurovision"?

- Yes, of course. I was very nervous that day. The first JESC made a big impression on me, it was scary to sing in front of such an audience, but it was great.

Was this because of the great responsibility Eurovision is associated with or was it the first time you sang in front of so many people?

- I am always excited before the show, I talked about this many times and keep talking.  I think this is made up of several factors: the responsibility and excitement in general, before going on stage.

- Do you have friends among the adult performers?

- Friends, not exactly. - But I talked to many.  For example, with Dima Bilan.

Did he say well done to you?

- Yes. But we also talked about a lot of other things.  About singing, and events, for one.

- How do you spend your free time?

- Meeting with friends, like any teenager, leading an active online life, reading, collecting stickers for a long time. I have many interests, but singing is the biggest of course. I sing in all my spare time, on the way to school, in the classroom and on the way home.  I guess I do not sing only at night - and it's because I'm asleep.  I even listen to a lot of music. Mainly, of course, pop music.  But to lots of different types, I have no favorite bands and artists.

- I read that you'd like to play in a movie, it's true?

- Yes, it's true. But seriously, I have not thought about it. Maybe it will be fantastic.

What about a musical?

That would be great too of course.

So you have been working on your JESC entry lately?

Yes, we have to think about all the details.  I have many ideas. Sometimes something just comes to mind - and I record it on tape, but I often don't show anyone. I am just brainstorming. But anyone who reads this, I would like to say that I am not afraid of creativity.

- Do you have many friends on the Internet?

- A lot.  People find me on social networks, they write: "Hi, how are you?" I get a lot of questions about my singing and what I am doing. Unfortunately we do not have time to respond to all messages but I appreciate them all of course.

- How are you studying, do you get good grades?

- Yes, I get good grades and I have a very good class.

-Are your classmates supporting you?

- Yes, they like what I sing. Sometimes I invite them to my performances. For example, I invited three of my friends to the national final.

- They did not want to follow your example and become a singer?

- They already know what they will do in the future. And they do not want to sing.

- Already know? So young?

Roughly. Everyone of our age is thinking about these things.
---
23 August 2011 - A press article from Lithuania reveals that only 20 entries have been submitted to their national selection due to a lack of interest from adult composers/producers (most participants collaborate with an adult, leading to claims that only rich people can afford to enter). So unlike last year there will be only one final show (on September 18th), and no semifinals. Milita Daikeryte from last years selection has entered again this year, and her song has been written by the same people who wrote "Oki-Doki" for Bartas in 2010, so she is definitely a contender for the win already.

Lithuania also expressed that they are waiting to hear back from the EBU on several rule changes for 2011, including interestingly, that ALL vocals, including backing vocals must be 100% live (previously kids could use a pre-recorded backing track). Whether this will be the case or not will have to be confirmed by the EBU.
---

5 August 2011 - AVRO have released previews of all eight songs competing in Junior Song Festival 2011. The full songs will be released starting tomorrow, with each child being featured on a different day:

Yassir: 07-08-11 @ 11:56 CET
Polle: 08-08-11 @ 14:55 CET
Rachel: 11-08-11 @ 17:09 CET  
Lidewei: 12-08-11 @ 18:00 CET
JuNMe: 13-08-11 @ 8:59 CET   
Joel: 13-08-11 @ 11:25 CET
Noah: 13-08-11 @ 15:24 CET


---
11-year-old Kristina Kochegarova better known as Kristall beat other 19 contestants in the Ukrainian national final and will therefore represent Ukraine in Yerevan.

Kristall has participated in several music festivals in Ukraine where she won different prices such as the Grand Prix at the "High Note" vocal contest in 2009. She was also the face of McDonald's Ukraine.
You can learn more about Kristall at her official website http://www.kristallmusic.com/ and watch her winning performance here
---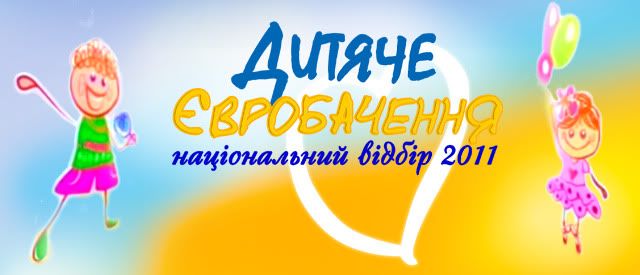 The Ukrainian national final will take place on July 31st at  8:20 PM CET
The 20 finalists are:
1. Hrystyna  Dutchak- "Oi, Molfare, charodiyu"
2. Olga Koval's'ka - "Z dnyom narodzhennya"
3. Group "Milashki" - "Internety-chaty"
4. Kristall - "Evropa"
5. Group "Fleshki" - "Vse bude kruto! (Ok!)"
6. Mikola Zaderey - "Ukrayina daruye futbol" 
7. Tamara Logvinova - "Ya kohayu tebe"
8. Duet "Dyadya Slava & Inna Richi" - "Diskoteka na seli"
9. Anton Mykhailyuk  - "Prokin'tes' lyudi"
10. Amanda Koenig  - "Hip - Hop"
11. Victoriya Kobzar  - "Charivna nich"
12. Anastasiya Kalynova  - "Bravo, bravo, Mr. Bond"
13. Karina Mazuryk  - "Mors'ka zirka"
14. Maryana Scherbak  - "Chudova podorozh"
15. Elena Nasyenkova  - "Virualniy polit (Popelyushka)"
16. Li Nguyen - "Koroleva Disko" 
17. Marta Kvochak  - "Pisnya schastya (Z namy zaspivay)"
18. Diana Miroshnychenko  - "Hey, za gory, hey" 
19. Anastasiya Shevchenko  - "Chobitki"
20. Mariya-Nicoletta Petryuk  - "Kol'oroviy dosch" 
 All songs can be heard here and some music videos are available on YouTube